The easiest, most affordable, ONLINE Early Childhood Curriculum on the

planet!
At least we think so… but judge for yourself with your 7-DAY FREE TRIAL!

FUNNYDAFFER! A Complete Curriculum Solution
Silly Name! Serious Curriculum!
So what is a Funnydaffer? Well, that's a story we'll share below. For now, we want you to know that Funnydaffer is a Complete, Fully-Customizable Curriculum Solution for your preschool or classroom. This was a program built by teachers, for teachers – so we know what you need in order to keep your kids engaged and your classroom running smoothly. With a database of over 10,000 Lesson Plans, Weekly Lesson Grids organized by age, Supply Lists, an Educational Standards Grid and a robust Resource Library, we think Funnydaffer delivers everything you need to be successful. And perhaps best of all, it's completely customizable.
Age Groups
Infants
1-2 Years
3-5 Years
School Age
We Give You the Tools to Make Funnydaffer Work For You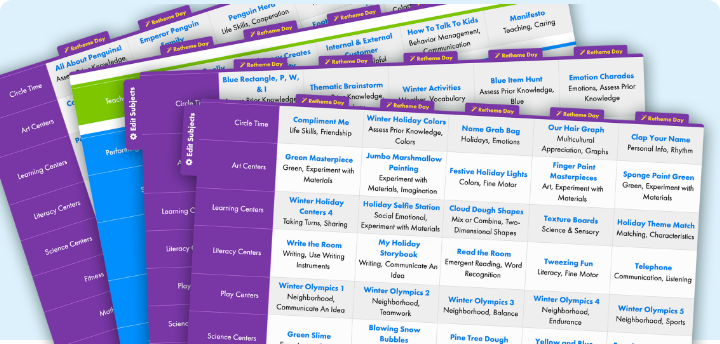 Weekly Lesson Grids
52 weeks of developmentally-appropriate lessons for multiple age groups.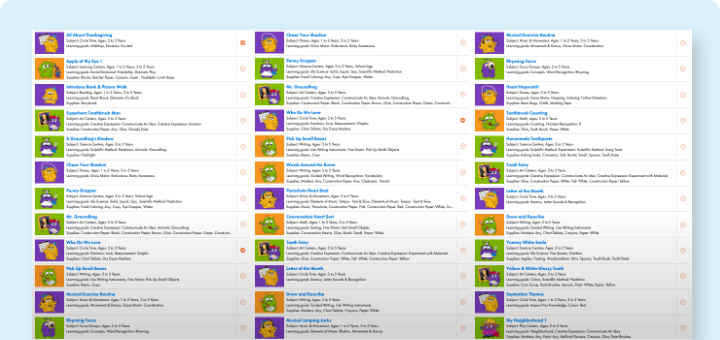 Over 10,000 Lesson Plans
You can find your perfect lesson by searching any topic, learning goal or supply.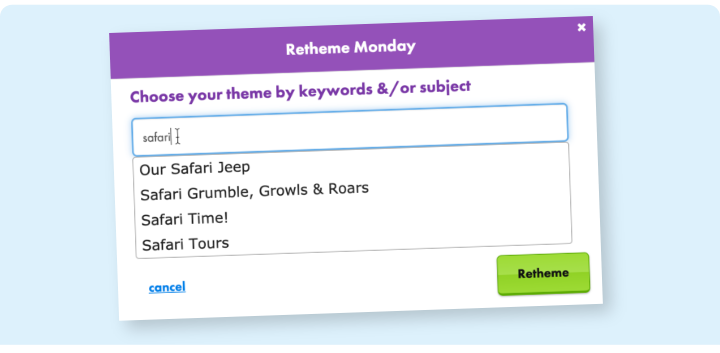 Smart Search Technology
Plan a day or an entire week by typing in one keyword. Really!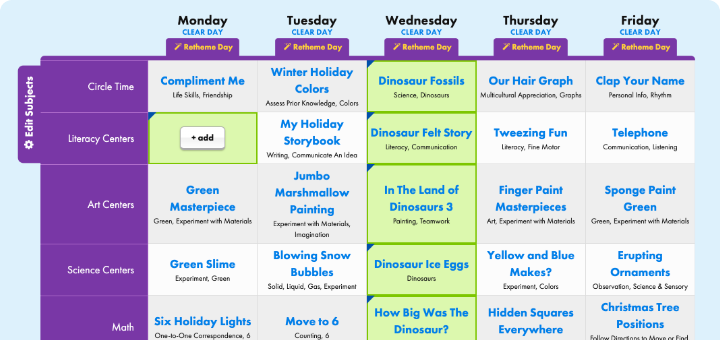 Completely Customizable
Rearrange or hide subjects, edit & replace lessons, create a customized Weekly Grid.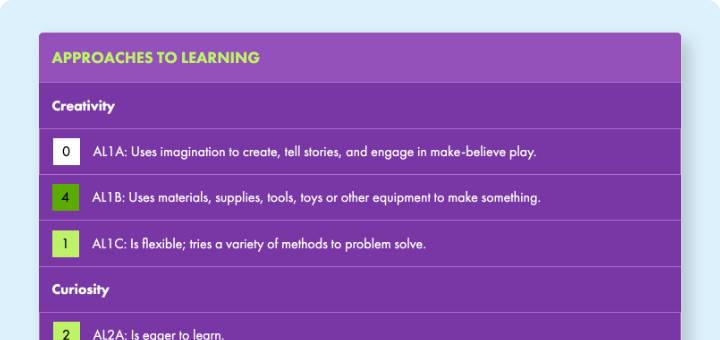 Educational Standards Grid
Standards adjust to reflect your customized lessons.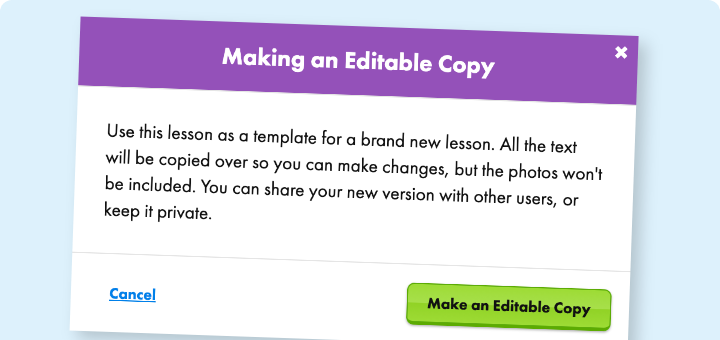 Lesson Editor
You can edit & save any lesson in our database.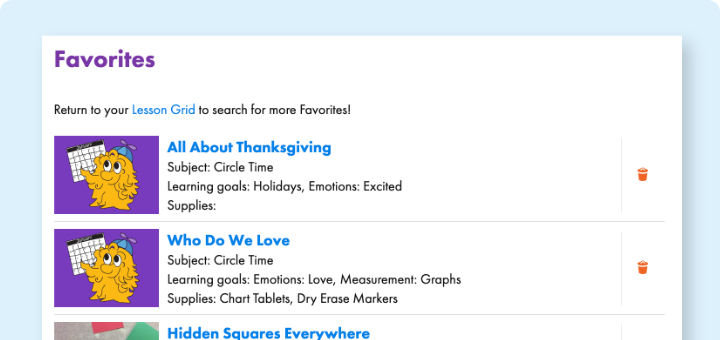 Lesson Organizer
Save your lessons in your custom Weekly Grid or your Favorites Folder.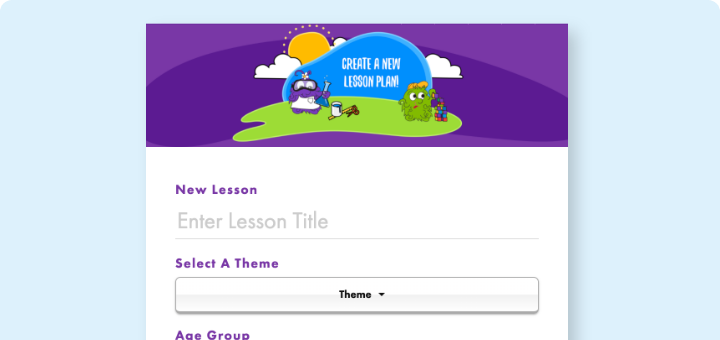 Lesson Writing Wizard
Our Lesson Writing Wizard helps you create your own lessons.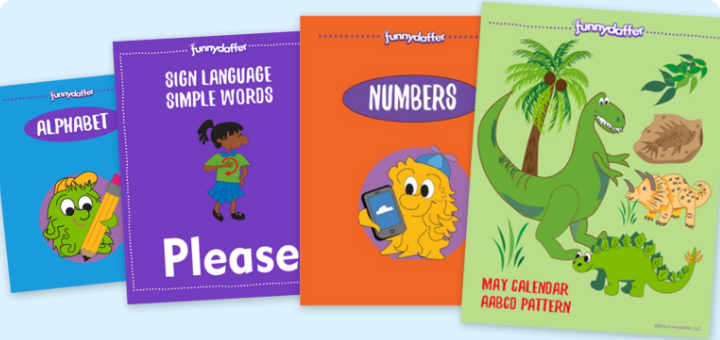 Resource Library
It's loaded with helpful Templates & Tools.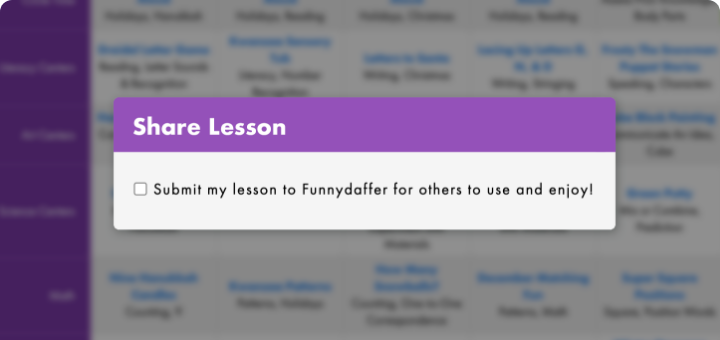 Share Your Lessons
You can choose to share your original lessons with other Funnydaffer Members.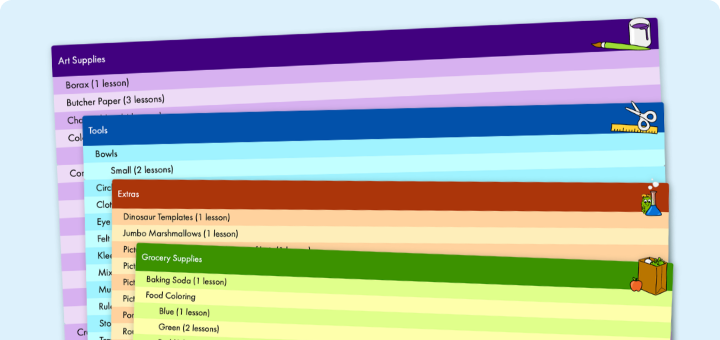 Supply List
Makes prepping & ordering supplies a breeze. Members receive special pricing from Discount School Supply!
Completely Customizable
While we're super proud of our curriculum and we created a full year of themes and lesson plans for you to follow, we realize that sometimes you want to do your thing, not our thing. So, we made Funnydaffer completely customizable.
Delete & Replace Lesson Plans
Easily Edit or Write Your

Own Lesson Plans
Retheme a Day or Entire Week
Rearrange or Hide Subjects
Start Your Free Trial
Three Easy Ways to Plan
Spend Less Time Planning & More Time Teaching
We know what you really want to be doing. You want to be with your happy, cheerful, silly, playful, loving, crazy kids! (Although we know a break feels good too… but this is about the KIDS!) Our age-based Weekly Lesson Grid and Smart Search technology helps you plan, search and organize your week in a fraction of the time that you are currently spending. There are three easy ways to plan.
Follow Our Lesson Grid
We've done all the work and planned all the lessons. Simply follow our Weekly Lesson Grid and enjoy!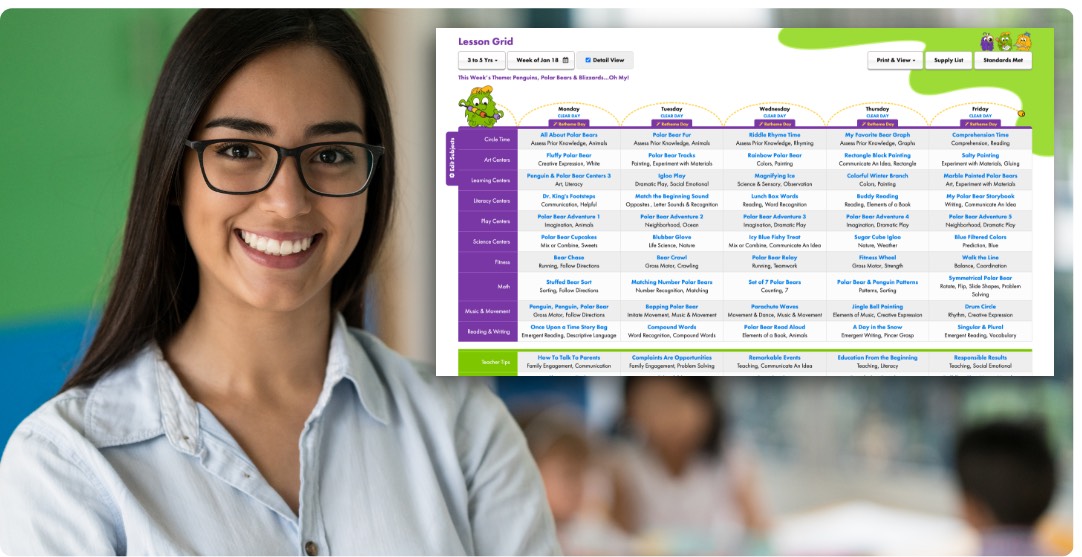 Use Our Smart Search Technology
If you have special themes that you want to follow, you can plan a day or an entire week by typing in one keyword. Really!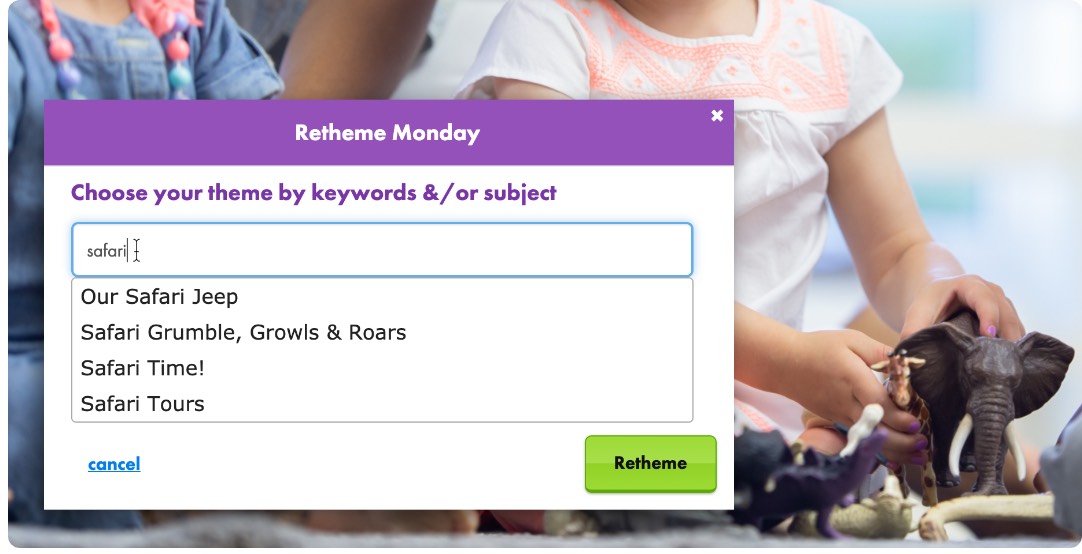 Write Your Own Lessons
If you love doing your own thing, our Lesson Writing Wizard will become your best friend!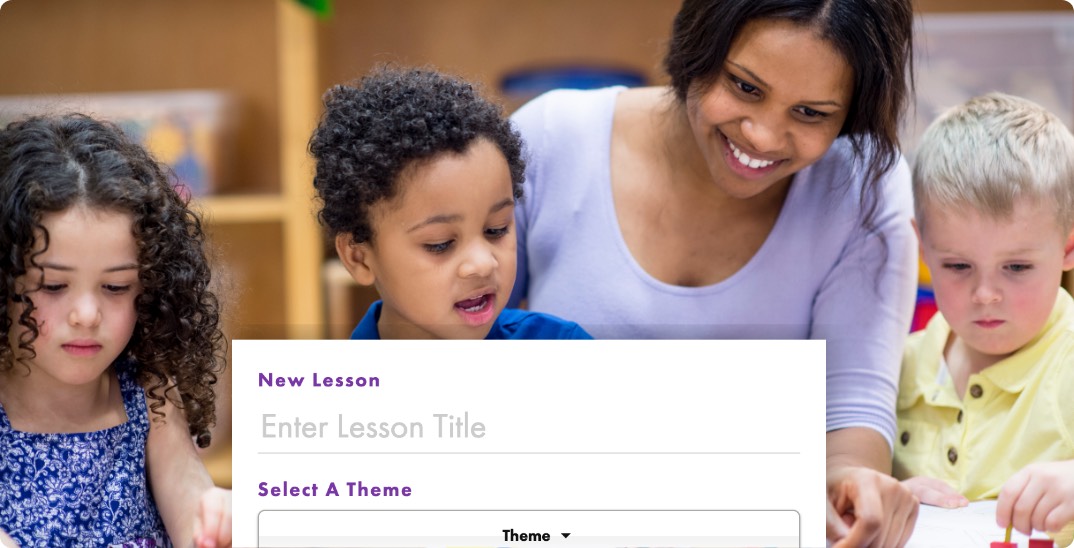 Super Mobile Friendly
Over 10,000 Lesson Plans in Your Pocket
If you like printing out your Lesson Plans, you may certainly do that. But Funnydaffer is very mobile-friendly and looks great on your phone or tablet. So, whether you're reviewing a Lesson Plan inside your classroom or you're doing some late-night planning while chillin' on your couch… Funnydaffer is always with you!
Did We Say Affordable? Yes… We Did!
We've been running preschools for over 20 years so we understand the economic reality of our industry. We also know that preschool teachers have the most important job in the world! To that end, we set out to create a curriculum unparalleled in both price and quality. We invite you to join us!
Bye-Bye Chaotic Classroom! We're Coming for You!
Well… maybe we're over-stepping a smidge because every classroom gets a little crazy at times :) HOWEVER, the primary reason why a classroom gets chaotic is because the kids do not have enough interesting things to do. That's where we come in.
We give you the ideas. We provide the step-by-step instructions. We tell you the supplies you'll need. And we do it in an instant. So whether you run a classroom with Open Centers or focus more on Teacher-Directed Lessons, we deliver the ideas that will engage your kids, grow their brains and keep them happy. Bye-bye chaotic classroom!